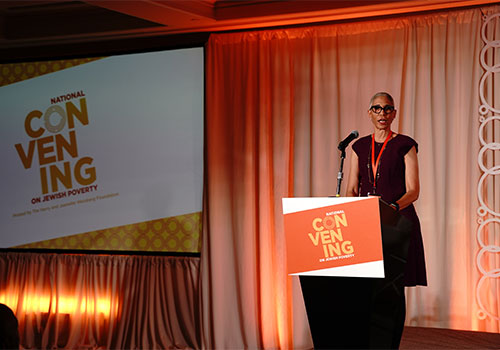 The Weinberg Foundation recently convened—for the first time in the Foundation's 29-year history—a distinguished slate of national experts for a series of conversations focused on addressing Jewish poverty in the United States.
More than 200 people from 19 states and Washington, DC, as well as Israel and Canada, attended, including direct services professionals, funders, Jewish Federation leaders, researchers, government leaders, media representatives, and faith leaders.
"This Convening was only the beginning of an ongoing, action-oriented national dialogue that will result in collaboration among individuals, organizations, and communities," said Rachel Garbow Monroe, Weinberg Foundation President and CEO. "We are thrilled to share that representatives from more than 30 organizations have already committed to attend the inaugural meeting of The National Affinity Group on Jewish Poverty, which will be held on June 11 in Chicago. This will be the first step in strengthening partnerships that will build knowledge, actionable data, and best practices in service delivery—all focused on combating poverty within Jewish communities nationally."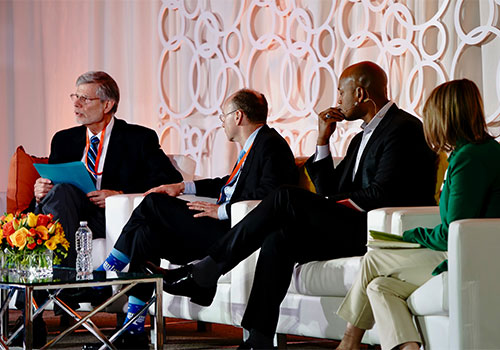 All of the Foundation's board members, representing its priority communities across the US, were present at the Convening in San Francisco, including Robert T. Kelly, Jr., Board Chair; Ambassador Fay Hartog-Levin (Ret.), Trustee; Paula B. Pretlow, Trustee; and Gordon Berlin, Trustee, and President of MDRC—who led a keynote panel discussion as part of the program.
The keynote panel discussed the challenges of poverty in general throughout the US, as well as the unique aspects of Jewish poverty. The panel (listed below) also assessed the current research on low-income Jewish households and identified potential next steps related to national Jewish poverty.
Gordon Berlin, Trustee, Weinberg Foundation; President, MDRC; panel facilitator
Wes Moore, CEO, Robin Hood Foundation
Alan Cooperman, Director, Religion Research, Pew Research Center
Sarah Abramson, Senior Vice President, Strategy and Impact, Combined Jewish Philanthropies
In addition to the keynote panel, this event also included six interactive breakout sessions led by experts in their fields (who have each authored a concept paper) and three "bright spots" talks, which highlighted successful programs or ideas from Jewish communities across the country. 
If you were unable to attend the Convening, we hope you will take a few moments to view recordings of the Keynote Panel discussion, as well as the Bright Spots presentations.