If you have any difficulty loading or reading this content on your device, please click here to read this message.
Greetings Israel Mission Alumni!
We hope you are well! Please hold the date for this year's Israel Mission Alumni Scholars Program on Tuesday, May 12 at Suburban Country Club.
This year's featured speaker is Aluf Benn, Editor-in-Chief of Haaretz. Aluf is well known to many of our alumni, having spoken to several recent Weinberg Mission groups in Israel. Please be on the lookout for our hold-the-date mailer which is also included here: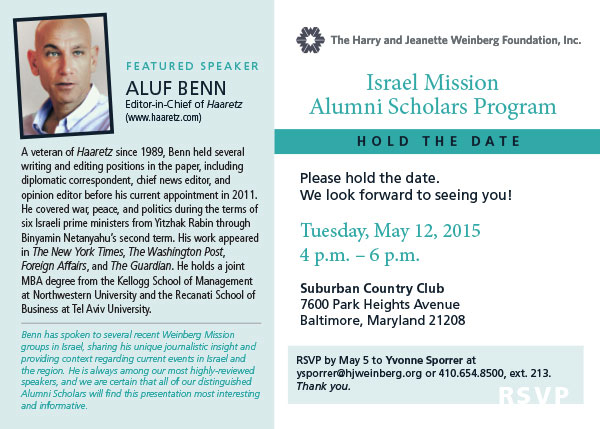 7 Park Center Court
Owings Mills, MD 21117
410-654-8500
www.hjweinbergfoundation.org
© 2014 The Harry & Jeanette Weinberg Foundation.
All rights reserved.
If you wish to no longer receive emails, please unsubscribe globally