We Want to Know What You Think

The Weinberg Foundation wants to hear from you!  The Foundation has added a survey to its website asking simply, "How Are We Doing?"
Visitors to our homepage http://hjweinbergfoundation.org/ will find two separate "call outs" like the one displayed to the left which will provide a link to the survey page http://hjweinbergfoundation.org/survey-how-are-we-doing/. The survey consists of 14 statements or questions as well as two invitations for comment.  We hope you will take just a few minutes to share your opinions, helping the Weinberg Foundation to better serve you and the community as a whole.
The Associated & Its Agencies received $11,000,000 total in grants last year!
The Harry and Jeanette Weinberg Foundation has a proud and long history of supporting The Associated Jewish Community Federation of Baltimore and its agencies. In fact, since 1990, the Weinberg Foundation has given more than $129 million to The Associated and its agencies - $70.3 million to The Associated and $59.4 million to its agencies.
The challenges of the on-going economic situation are real and have put a strain on every nonprofit whose mission is to help those who cannot help themselves. And while Baltimore is the only Jewish federation in North America that is still operating an annual campaign that is growing, and while Baltimore remains one of the very best Jewish communities in North America, it is not immune to the ongoing financial stresses of this new normal. Especially during these challenging and changing times, the Weinberg Foundation is proud to be the largest single contributor to The Associated, and in fact, it is one of the largest single annual campaign gifts to any Jewish federation in North America.
The Foundation's fiscal year ended February 29, 2012. In the past fiscal year, the Weinberg Foundation has committed more than 10% of its annual giving to The Associated and its agencies. A total of $11,010,605 was distributed in grants this year to The Associated and its agencies. The specific grants include:
The Associated & Agency Grants for the most recent fiscal year (March 2011 – February 2012)
The Associated
$3,000,000 was paid to support The Associated's annual campaign.
$4,000,000 was paid toward the total Weinberg Foundation's $8,000,000 challenge grant announced in 2007 for The Associated's long-term capital campaign needs.
$200,000 was paid to support the "Dementia Care at Home" model which benefited many Jewish older adults in greater Baltimore through home visits and enhanced medical care for memory loss.
Center for Jewish Education
$1,997,885 was distributed in grant funds to support scholarships for financially disadvantaged students in Jewish Day Schools throughout Baltimore.
Levindale
$1,500,000 was paid toward the new Levindale facility as part of the Weinberg Foundation's $10 million grant to the new Levindale facility. This is the largest gift to a long-term care center in the Foundation's history.
Jewish Community Services
$75,000 - to support Service Coordination to vulnerable older adults residing in the Weinberg Village in Owings Mills
SHEMESH
$100,000 – to provide special education services to children with learning disabilities in the Jewish Day Schools of Baltimore
Jewish Community Centers
$45,000 to support the JCC's school year and summer programming for children/teens with disabilities
Hillel
$28,750 was distributed in grant funds to support the maintenance of the JHU Hillel facility (this is an older grant that was approved several years ago and is the final grant payment for this project).
An additional $65,000 was provided in multiple grants to The Associated and its agencies for smaller projects and programs.
The Weinberg Foundation is proud to demonstrate such an extraordinary commitment to Baltimore's Jewish community.
In addition to these grants, this past December the Foundation announced a $5 million commitment over five years to support scholarship needs at 10 Jewish Day Schools in Baltimore that together enroll more than 4,400 students in K-12 education. As you may remember, this new $5 million grant was preceded by an $11 million grant over six years announced in 2006. In total, the Weinberg Foundation will have provided $16 million over 11 years to Jewish Day Schools in Baltimore, Maryland. The grants support a scholarship program managed by the Center for Jewish Education. In 2016, at the conclusion of this second grant, which will represent 11 years of continuous funding, the Weinberg Foundation will step back to examine other needs of the Jewish community and the community-at-large and will conclude its funding for Day Schools.
The Weinberg Foundation wishes to take this opportunity to thank the many community and school leaders, parents, and students for their involvement and support of the new learning opportunities represented by these multi-year grants. Further, The Harry and Jeanette Weinberg Foundation is confident these same stakeholders will continue to provide the guidance and resources that will ensure the future success of the Day Schools program. As the Weinberg Foundation's grant support of Jewish
Day Schools in Baltimore draws to a close in 2016, we celebrate all that has been accomplished so far and that which is yet to be achieved. The Foundation is grateful to have had the opportunity to contribute to the educational development of thousands of children within Baltimore's Jewish community.
The Weinberg Foundation continues to look forward to strengthening its goal of enhancing the quality of the lives of Baltimore's Jewish population through the good work of The Associated and its many agencies. The Associated has always been, and will continue to be, a partner that we are proud to support.
Recent Grants
Older Adults
This is the single largest area of grantmaking by the Harry and Jeanette Weinberg Foundation.  The Foundation remains committed to providing support to older adults to live dignified, meaningful, and engaged lives in the community and to maintain their independence for as long as possible.
Action-In-Maturity, Inc. (AIM)
Baltimore, MD
$50,000 Maryland Small Grant ($25,000 per year for two years) to support this agency which provides transportation and other human services to poor, older adults.  http://www.actioninmaturity.org/

Basic Human Needs & Health
The Foundation supports programs that meet the basic needs of individuals, families, and communities. These include programs in the areas of homeless services, economic assistance, food security, and health.

Tuerk House, Inc.
Baltimore, MD
$580,000 capital grantto expand and renovate Tuerk House's existing halfway Weisman-Kaplan House, a facility for men in Charles Village. http:/www.tuerkhouse.com/

Associated Catholic Charities, Inc.
Baltimore, MD
$500,000 operating grant (over two years) to provide general operating support to the largest service provider in the State of Maryland with 80 programs in more than 200 locations.
http:/www.cc-md.org/

Baltimore City Health Department
Baltimore, MD
$175,000 capital grant to implement an electronic health record system in the Baltimore City Public Schools' medical suites, which will improve the way students' medical information is collected, tracked, maintained, retrieved, and shared. http:/www.baltimorehealth.org/
Jobs, Housing and Recovery, Inc.
Baltimore, MD
$50,000 Maryland Small Grant (over two years) to support the Assessment and Referral Program, giving clients at the Housing and Resource Center additional opportunities to be connected to community resources. http:/www.jhrbaltimore.org/

Mid-Shore Pro Bono, Inc.
Easton, MD
$15,000 Maryland Small Grantto provide support for low-income individuals in a five-county service area of Maryland's Mid-Shore region who are in danger of losing their homes through foreclosure. http://www.midshoreprobono.org/
Disabilities
The Foundation supports organizations and programs that respect and promote the independence, integration, individual choice, and civil rights of children and adults with intellectual, physical, and sensory disabilities as necessary preconditions for a good life.
Netanya Foundation
Netanya, Israel
$300,000 capital grant to construct a new Early Childhood Center in Netanya to provide comprehensive multidisciplinary health care and early childhood interventions under one roof for children from infancy to age six. http://www.netanyafoundation.org/

Shared Support Maryland
Baltimore , MD
$70,000 Maryland Small Grant ($35,000 per year for two years) to support this organization which trains staff at other agencies in providing self-directed and other individualized supports for people with intellectual disabilities.  http://www.sharedsupportmd.org/

Education, Children, Youth & Families

The Harry and Jeanette Weinberg Foundation aims to build economic self-sufficiency through child/family development and education, from early childhood through high school graduation, preparing individuals for success in college or the workplace. Funding is intended to address critical issues in education, as well as youth homelessness, child abuse, and domestic violence.

KIPP Baltimore
Baltimore, MD
$1 million capital grant to support the renovation of the Dr. Roland N. Patterson Building to allow for the site to be used as the permanent home of two KIPP schools spanning grades K-8.
www.kippbaltimore.org
Bright Beginnings, Inc.
Washington, DC
$500,000 capital grant to construct a child and family development center for homeless infants and toddlers and their families.
www.brightbeginningsinc.org
The Middle Grades Partnership Fund at Baltimore Community Foundation
Baltimore, MD
$130,000 program grant (over two years) to support the annual operating budget of Middle Grades Partnership (MGP), which connects independent schools and public schools in partnership to raise the achievement of public middle school students. www.middlegradespartnership.org
Baltimore Urban Debate League
Baltimore, MD
$65,000 operating grant to provide general operating support to the League's provision of debate training to 500 students in 35 schools throughout Baltimore. www.budl.org
REACH! Partnership
Baltimore, MD
$50,000 program grant to help support a summer remediation program for middle and high school students in this career and college preparation program in partnership with the non-profit Civic Works.
http://reachpartnership.com

Access Art, Inc.
Baltimore, MD
$40,000 operating grant (over two years) to support this organization which provides after- school arts and media programming for at-risk youth in Southwest Baltimore and Hampden.
www.youthlightproject.org
Baltimore City's Youth Works – Summer Jobs Program
Baltimore, Maryland
$30,000 program grant to support one of Baltimore City's six-week long summer jobs program for more than 5,000 young citizens of the City.
www.baltimorecity.gov/HireOneYouth

Education, Children, Youth & Families - Israel

Teach for All, Inc.
Throughout Israel
$100,000 program grant to recruit and train Israel's top university graduates to teach for at least two years in high-need classrooms and continue to work as leaders across professional sectors to address educational inequity in Israel. www.teachforall.org
General Community Support
This program area includes support for Jewish causes worldwide and local community development efforts such as renovation or construction of affordable housing, neighborhood revitalization, and community improvement in low-income neighborhoods and grants to organizations that distribute funds to many of the Foundation's priority areas.
The American Jewish Joint Distribution Committee (JDC)
Former Soviet Union (FSU), Israel, Argentina
$15 million operating grant to support the largest international Jewish humanitarian organization in the world. http://www.jdc.org/
JDC/Former Soviet Union

$6,000,000 to care for poor, older adults
$2,400,000 to ensure a Jewish future in the FSU
$1,000,000 to provide welfare relief for Jewish children
JDC/Israel

$3,350,000 to support Eshel, The Association for the Planning and Development of Services for the Aged in Israel. JDC-ESHEL is a non-profit organization founded and supported by the Israeli government and the JDC which strives to improve the quality of life for the older adult population in Israel.
$2,000,000 to support the TEVET employment initiative. This partnership with the Government of Israel aims to remove social barriers to employment and raise the level of marketable skills among Israel's most vulnerable communities—new immigrants, the ultra-Orthodox, the disabled, young adults, and Israeli Arabs.
JDC/Argentina

$140,000to provide humanitarian relief for Argentinean Jews
$110,000 to support children's programs
Yad Vashem
Jerusalem, Israel
$1,000,000 capital grant. The Foundation's leadership is especially proud to announce this one-time grant to support Israel's official museum and memorial to the victims of the Holocaust. The grant is funding a large meeting room with a Jerusalem Hills Panorama located in the international educational wing on the campus of the institution.
http://www.yadvashem.org/
10,000 Books Expected!

Well, the month of March brought beautiful weather, a new website, and books galore for the Baltimore Elementary and Middle School Library Project! A huge thank you goes out to all the individuals, businesses, and organizations who made our first community-wide Book Drive a success. The Weinberg Foundation joined with more than 80 partners across 100 sites.  Even the Governor of Maryland and the Mayor of Baltimore helped out!
The counting continues but we are expecting to receive a total of approximately 10,000 books! Thanks to your enthusiasm and support, Baltimore City students will have new books on their library shelves, in their classrooms, and at home.
If you still have books you would like to donate, please take them directly to the Baltimore Reads' Book Bank (baltimorereads.org) and the great staff there will make sure they benefit the Library Project.  If you would like to donate your time, please consider volunteering at Baltimore Reads to help sort the thousands of books collected. Contact Kate Sorestad (ksorestad@hjweinberg.org) for details about this worthwhile and fun opportunity.
In addition to collecting books, the Weinberg Foundation also has launched the new Library Project website at www.baltimorelibraryproject.org. Please visit often to find out about the latest information and developments.
New Overview of Grants for Older Adults

The Harry and Jeanette Weinberg Foundation is committed to keeping in touch with its many grantees, partners, and other stakeholders. In an effort to provide more focused, detailed information (and to be more environmentally sensitive) the Foundation has replaced the traditional annual report with grants overviews. These overviews highlight selected grants within each of the Foundation's program areas as well as within broader communities of funding and can be found on the Weinberg Foundation's website under "Publications."
Weinberg Foundation Broadens Vision for Senior Services 

All 14 projects nationwide involved in the $8.4 million Weinberg Caregiver Initiative, now in its third and final year, gathered March 28 in Washington, DC to share their latest findings. The Caregiver Gathering was held in conjunction with the Aging in America Conference which, this year, included more than a dozen sessions featuring Weinberg Caregiver Initiative projects.
Looking ahead, the Foundation seeks to use learning from the Caregiver Initiative as well as a new $2.5 million pilot program in New York City to improve the quality of training and employment of paid caregivers. Recognizing the critical need for these services will only multiply in the years ahead, the Weinberg Foundation aspires to create the best direct-service and training models for all paid and unpaid caregivers serving older adults as well as adults with disabilities and/or special needs. The Foundation aims to make Baltimore and all of Maryland the best place to be a caregiver and a care recipient by 2017.
A First for the Weinberg Foundation Israel Mission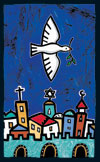 The Harry and Jeanette Weinberg Foundation hosts an annual mission trip to Israel. The goal is to provide a rare opportunity to witness, first-hand, how individuals have overcome adversity and thrived with dignity in such a complicated region of the world.  It's an opportunity for participants to better understand and interpret the complex, ever-changing realities of the Middle East.
Now, for the first time since Weinberg began funding the mission in 2001, and solely running and leading the trip since 2008, this year's Israel Mission, departing May 5, will include more than 20 people from the Foundation's northeastern Pennsylvania "hometown" and beyond –New York, Illinois, and Washington, DC.
Next year, 2013, we will resume inviting Israel Mission participants from the Maryland region.

2012 Weinberg Foundation Israel Mission Participant List*
Gordon Berlin, President, MDRC
Austin J. Burke, President, Greater Scranton Chamber of Commerce
L. Peter Frieder, President, Gentex Corporation
Sr. Maryalice Jacquinot, IHM, President & CEO, St. Joseph's Center
Corbett A. K. Kalama, Executive VP–Wealth Management Group, First Hawaiian Bank
Catherine M. Keating, CEO – U. S. Institutional Asset Management, JP Morgan Chase
Preston Kendall, III, President, St. Martin de Porres High School
W. Scott Lynett, CEO, Times-Shamrock Communications & Publisher, The Times-Tribune
Patrick J. McMahon, President, OnePoint            
Karen Murphy, Ph.D., President & CEO, Moses Taylor Foundation
Charles W. Quatt, Partner, Quatt Associates
Kevin P. Quinn, S.J., President, The University of Scranton
Brian Vogel, Senior Principal, Quatt Associates
Robert T. Kelly, Jr., Trustee, The Harry and Jeanette Weinberg Foundation
Rachel Monroe, President, The Harry and Jeanette Weinberg Foundation
Stan Goldman, Program Director, The Harry and Jeanette Weinberg Foundation
Craig Demchak, Director of Community Affairs, The Harry and Jeanette Weinberg Foundation
*An additional seven people will join this year's Mission trip as guests of invited participants
Here are just a few of the planned highlights of this year's Israel Mission:
Test drive electric cars at A Better Place Center, the premier global provider of electric vehicle services and the hub of Israel's electric car revolution
Meet with Daniel B. Shapiro, U.S. Ambassador (pending confirmation)
Participate in Israel 2012, a dialogue with Aluf Benn, editor-at-large for Haaretz, Israel's oldest daily newspaper
Visit Israel's borders with Lebanon, Syria, and Gaza for an insight into the complexities of security and national defense
Meet with Dr. Victor Batarseh, Mayor of Bethlehem, followed by a visit to the site of the birth of Jesus and the Church of the Nativity
Learn from Dr. David Zilberklang, Senior Historian at the International Institute for Holocaust Research at Yad Vashem, followed by a guided tour of the Jewish national memorial to the six million Jewish victims of the Holocaust
Celebrate Shabbat (the Jewish Sabbath) with a festive dinner including Israeli Lone Soldiers (soldiers who have immigrated to Israel without their families)
Visit numerous cultural and holy sites including Jerusalem, Bethlehem, the Sea of Galilee area, and Nazareth
Weinberg Foundation Seeks Outstanding Controller

The Harry and Jeanette Weinberg Foundation is seeking exceptional candidates, preferably from the Greater Baltimore region, for the position of Controller. The position will be based in the Foundation's Owings Mills, Maryland office. Please visit our website at http://hjweinbergfoundation.org/about-us/employment/ to see the job description as well as information on how to apply.
Hold the Date! Tuesday, November 13, 4-6 p.m.

Please don't forget to mark your calendar for a truly special afternoon with more than one thousand of the Foundation's closest friends. This year's Annual Community Gathering will be held Tuesday, November 13, from 4-6 p.m. with some exciting changes. This year's event will be held at the historic Hippodrome Theatre on Eutaw Street in West Baltimore. But the venue isn't the only surprise. The Foundation will host a nationally known philanthropic speaker -- more details very soon!
Also, the Weinberg Foundation looks forward to seeing many of its friends and associates who will be in Baltimore for the Jewish Federations of North America's General Assembly which will take place November 11-13. The Foundation's Annual Community Gathering will be held immediately after the conclusion of the General Assembly. The Weinberg Foundation hopes that many of those attending the General Assembly will make plans to stay for the Annual Gathering at the Hippodrome. Please hold the date!
Please consider following the Foundation on Twitter or liking us on Facebook.  Your support is greatly appreciated!