Message from Corbett

Weinberg Foundation Hawai'i 2020 year in review

Pivots in philanthropy

Taking a collaborative approach to addressing homelessness

Hawai'i Jewish community mapping and needs assessment underway

More than $3 million in recent new Hawai'i grants announced
Message from Corbett
Aloha kākou,
I am wishing that all is well with you and your 'ohana. 2020 has been a year of appreciation, challenge, and collaboration. In many ways, this year has also been one of reflection. As we marked the 30th anniversary of the Weinberg Foundation, it brought back memories of Harry Weinberg. I remember the joy and appreciation the community expressed when he and his wife Jeanette gifted their nearly $1 billion estate to serve the most vulnerable members of our community. Harry Weinberg's tenacity and generosity inspired me, and today I am privileged to be part of his vision for Hawai'i.
The COVID-19 pandemic's impact on Hawai'i, while creating a great deal of uncertainty and anxiety, also revealed our community's capacity to demonstrate compassion, care for one another, and be resilient.
Many organizations and leaders in our community carry the spirit of generosity and passion to serve that continue to keep Hawai'i moving forward. At the Weinberg Foundation, our team is driven to meet the basic needs of people experiencing poverty. Through our grant activity, collaboration across sectors, and support for community-based organizations, our mission is to make a meaningful difference in the lives of older adults, children and families, people with disabilities, veterans, and individuals within the Jewish community. We are grateful to partner with so many in Hawai'i who are building resilient communities, strengthened by diversity across all populations.
In this edition of Hawai'i e-news, you can read more about our year in review, including highlights from our grantmaking and collaborations, but what I hope you take away from this edition is our sincere gratitude for your support and partnership that makes it possible for us to continue fulfilling Harry's legacy to help Hawai'i and all the communities he loved.
Mahalo. Be well.

Corbett A.K. Kalama
Executive Vice President –
Hawaiʻi Office
Learn more about our grantmaking here.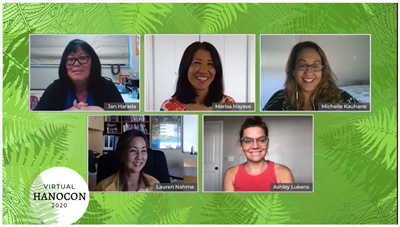 Congratulations to the Hawai'i Alliance of Nonprofit Organizations (HANO) for successfully transitioning their annual conference online this year. Three hundred thirty-six people joined the virtual HANOCON to learn, network, forge new connections, and discuss sector issues. Marisa Hayase, Program Director - Hawai'i for the Weinberg Foundation, participated alongside four leaders in Hawai'i's philanthropic community in a panel discussion focused on sharing the perspective and experiences of funders.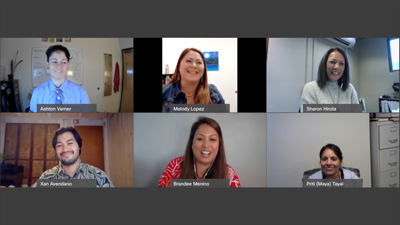 As Hawai'i continues to cope with the economic, social, and public health effects of the pandemic, many in our community are finding it more difficult to hold on to a safe and affordable place to call home. The Weinberg Foundation is committed to taking a collaborative approach with nonprofit service providers, community members, the private sector, local governments, and philanthropy to drive conversations and solutions to ensure everyone has access to safe shelter.
On December 9, the Weinberg Foundation hosted its second virtual Hawai'i Jewish Leader Convening. With the goal of creating and leading a coordinated approach to better serve and strengthen Hawai'i's Jewish 'ohana, nearly 60 Hawai'i Jewish leaders participated in a discussion to gather insights about the human services needs within the community.
The Weinberg Foundation recently approved $3.6 million in Hawai'i-specific grants supporting the areas of Housing, Health, Jobs, Education, and Community Services. This does not include COVID-19 emergency grants, which are updated regularly on our website.
Know someone who would appreciate this newsletter? Share it!
The Weinberg Foundation also produces a Foundation-wide e-news. If you would like to see that e-news, please click here.
We hope you will take a few minutes to read our latest e-news. Also, we invite you to like the Weinberg Foundation on Facebook and follow us on Twitter!